Our first signature cocktail is the Captain Healy
It is named for an extraordinarily colorful Coast Guard captain.
Check out our video guide to the recipe!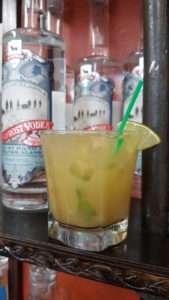 This is a slightly sweet, nicely spicy cocktail also designed by Allison Rose at Hoarfrost distilling. The cocktail is made by:
–  Muddle 2-5* small chunks of each fresh jalapeno and ginger with 0.25 oz lime juice in a cocktail shaker.
–  Add 10 oz glassful of ice and:
0.5 oz simple syrup
1.5 oz vodka
2 scant oz pineapple juice
–  Shake and pour (do not strain) to 10 oz Old-Fashioned glass.
–  Garnish with lime or pineapple chunk.
* Tastes vary, so use an appropriate amount of jalapeno and ginger for the customer you are serving. The seeds are generally
left out, but some customers will want all the heat you can give.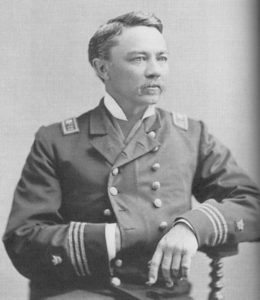 Captain Michael A. "Hell Roaring Mike" Healy, captain of the famous revenue cutter Bear. The Bear came to be known as "Healy's Fire Canoe" because of the steam engine that augmented it's three masts, making it very fast. Healy was the law on a lawless
sea in the decades after the US purchase Alaska but before
establishing any sort of government.
Healy acted as sheriff and judge fighting illegal trade, exploitation of natives and wildlife, rescuing those in need, and supporting early science expeditions. Along with Sheldon Jackson, he introduced reindeer into Alaska as a supplemental food source and resource.
He was the son of a southern plantation owner, and his mother was a slave. By law he was a slave too, but his father sent him and all his numerous siblings north for schooling. The Healy brothers and sisters claimed many remarkable accomplishments.