Infused Vodka for Bloody Marys
Our infused vodka for Bloody Marys is mostly vegetables. There is a lot of leeway here to try out things that seem interesting (for example I plan to test lemongrass soon) . To make it at home combine the following ingredients in a wide-mouth quart jar:
A bottle of Hoarfrost vodka
about a quarter cup of fancy organic dill pickle juice
A lemon (sliced)
a half cucumber (sliced)
two celery inner sticks (snipped up)
six or eight scallions
a tomato (quartered)
3 cloves of garlic (NOT sliced)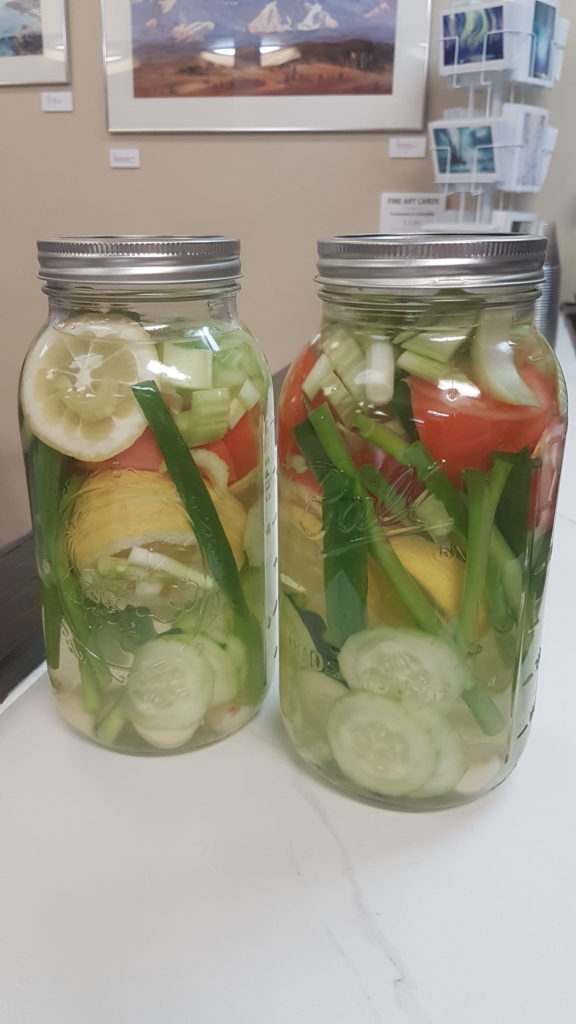 Mix it all up and store in a cool place for three days. Longer isn't better, so just stick with the three days at first. At the end, run it through a fine strainer and put the liquid back in the bottle. It now has a beautiful color and an amazing scent. If you filter it with a coffee filter, it will be clear, but the solubilized fiber will clog the filter quickly so it takes forever.
If you intend to infuse bacon in your Bloody Mary, you are in good company. That has become popular if Google search results are to be believed. The accumulated wisdom of the ages says, "cook the bacon first".
You will get a ton of garlic flavor without cutting them up, so don't do it. The tomato probably won't contribute much, and there is a lot of tomato juice in a Bloody Mary. Seriously, I can't find tasty tomatoes in Fairbanks very often anyhow, so probably just skip that. You can (and should) experiment with adding hot peppers, but be warned that they heat up vodka very fast, so maybe just at the end for a few hours the first time and see where it leads you.
To make the Bloody Mary,
Start by rimming a glass (I use a 16 oz beer glass) with celery salt.
In a shaker with some ice, add 1.5 oz of your infused vodka, 3 oz of tomato juice, and 1 oz of lemon juice. This is the backbone of the cocktail so use the best quality juices you can get.
Then add three dashes of Worchestershire sauce, a twist or two of black pepper, and as much horseradish sauce as you can stand. Really play with these to find out how much you like. I prefer to add heat by using more or hotter horseradish, but some people like hot sauce better. Keep track of what works for you and take notes.
Shake that muck all up, then dump it in the glass and add ice to bring it to full.
Garnishing is subject to a ton of personal preferences. If you'll be guided by me, you use a spicy green bean and a lemon wedge at least. Lots of people like fresh celery, olives, (cooked) bacon strips, pickled okra (anything pickled really).