Hoarfrost Distilling is a family owned  distillery making world-class vodka by hand in Fairbanks, Alaska.
We work with Alaskan barley and water to create a vodka of unsurpassed smoothness and flavor.
Come by for a tour and vodka tasting, a couple of our signature vodka cocktails or purchase some bottles in our tasting room, or rent the room and have a party!
We are located at 3501 Lathrop Street, Suite F, Fairbanks, AK 99701. We are actually on the Van Horn side of the building.
Tasting room hours:  
Monday          4:00-8:00 PM
Tuesday          4:00-8:00 PM
Wednesday  4:00-8:00 PM
Thursday       4:00-8:00 PM
Friday             3:00 to 8:00 PM
Saturday       4:00 to 8:00 PM
Current Artist on Exhibit – Deb Horner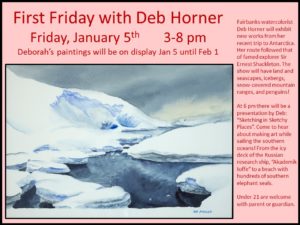 Note- we are usually staffed from 9:00 AM until 8:00 PM on weekdays. Please call us at 479-6128 or ring the door bell during those times and we will take care of you. 
Tours are available for $12. Tours include tasting our Crystal vodka as well as a few infused recipes that we make special in our tasting room. You get to keep your collector shot glass from the tasting, and receive a discount on non-alcohol merchandise after the tour.
For the most current updates, please follow us on Facebook and Instagram.
(You must be no less than 21 years old to continue to view this site).
Tours:  
Toivo Luick, the owner, currently gives informal tours by request, and loves to talk about vodka and distilling at length. Unfortunately his work with the Secret Eight interfere with his tour availability, so he is not always available. Please contact the distillery at 479-6128 to schedule one. Tours outside of tasting room hours can be arranged in some cases.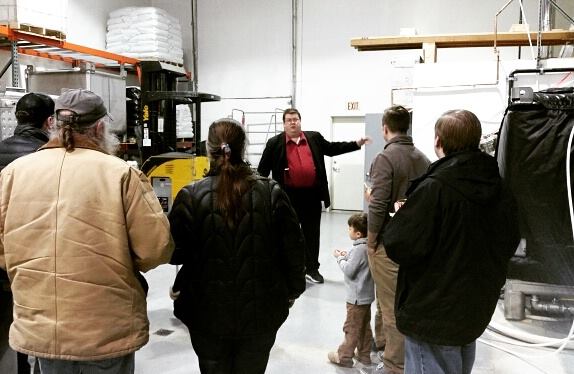 If you'd like to enjoy Hoarfrost at home, you can purchase full bottles at our location, as well as at Gold Hill Imported Beers and Fine Wines (3040 Parks Highway).
Our Crystal vodka is seen below, and makes a great gift for both locals and out-of-towners! We look forward to sending our traveling visitors home with an authentic taste of Alaska.